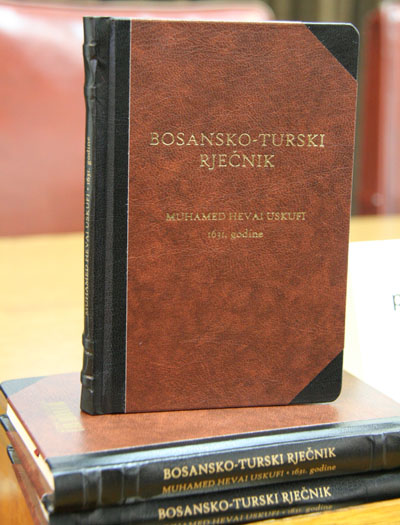 Muhamed Hevai Uskufi's Turkish-Bosnian Dictionary from 1631 Presented
Wednesday, 14/03/2012
In the amphitheater of the Academy of Sciences and arts of Bosnia and Herzegovina the promotion of Muhamed Hevai Uskufi's Bosnian-Turkish Dictionary from 1631 was promoted.
It is about a transcript of the oldest Southern Slavic dictionary of Shtokavian dialect in the Europe and of the oldest Balkanian dictionary, published by the Tuzla Municipality and Federal Ministry of Science and Education.
Mr. Damir Masic, Federal Minister of Education and Science, Mr. Jasmin Imamovic, Mayor of Tuzla, Academician Esad Durakovic, Prof . Josip Baotic, PhD and Prof. Adnan Kadric, PhD, author of the chapter dealing with the transcript of Uskufi's Dictionary from Uppsala were speaking about the significance of the 1631 dictionary.
Minister Masic in his address expressed his satisfaction that the Ministry of Education and Science Federation was able to work with Tuzla Municipality as a co-editor of this transcript and crucial historical works, written in 1631. He also stated that document witnessed the history and continuity of existence of the Bosnian language on the B&H territory". He also said he was sure that re-issue of the 1631 Dictionary was important for B&H , since languages and dictionaries had been building bridges among people.
When speaking about the book, Academician Esad Durakovic said that very important cultural and historical facts determined this dictionary, - it being written in verse. "Uskufi's Dictionary is an important part of cultural history, an important literary work of art and convincing philological argument" said Durakovic.
One of reviewers Prof. Dr Josip Baotic emphasized that it was the first collection which did contained a single non-authentic or non-domestic word.
---